Cai Rang Floating Market and Mekong Delta Tour 1 day is the perfect tour to explore the real Vietnam southern rural life and culture of the Mekong Delta. In Southern Vietnam, the Mekong Delta is home to myriad attractive destinations and unique ecosystems that deserve more than a day trip from Ho Chi Minh City. We recommend you should do 2 days tour here.
But, if you don't have enough time. We can do in 1 day. We have to start eary in the morning at 4.00 am. the market used to operate from 2 a.m. to 3 a.m. and close before sunrise. Later on, due to the increase in tourism activities in Cai Rang, the market started operating from 5 a.m. to 9 a.m. to serve tourists.
The River Mekong unravels into nine rivers, creating the fertile Delta as nowadays. Daily life in the delta flows with the ever-changing waters, rice fields are dug as the waters recede and fisheries thrive throughout the annual flood. Considered as the "Rice bowl" of Vietnam, Mekong Delta River brings the magic inside that appeals to all those who have come to this immense land. The Mekong Delta is completely focused around the water, which explains why the only way to navigate this region is by boat. You will see rice paddies, fruit orchards, and floating markets, Buddhist temples and family houses clinging to the river's banks.
If you are looking for a tour to visit the Mekong Delta, this tour is the perfect choice for you. In the tour, you will have a chance to visit the floating market, enjoy boat rides through small canals, experience preparing local dishes and biking in the village paths. Join our trip and have more fun!.
Cai Rang Floating Market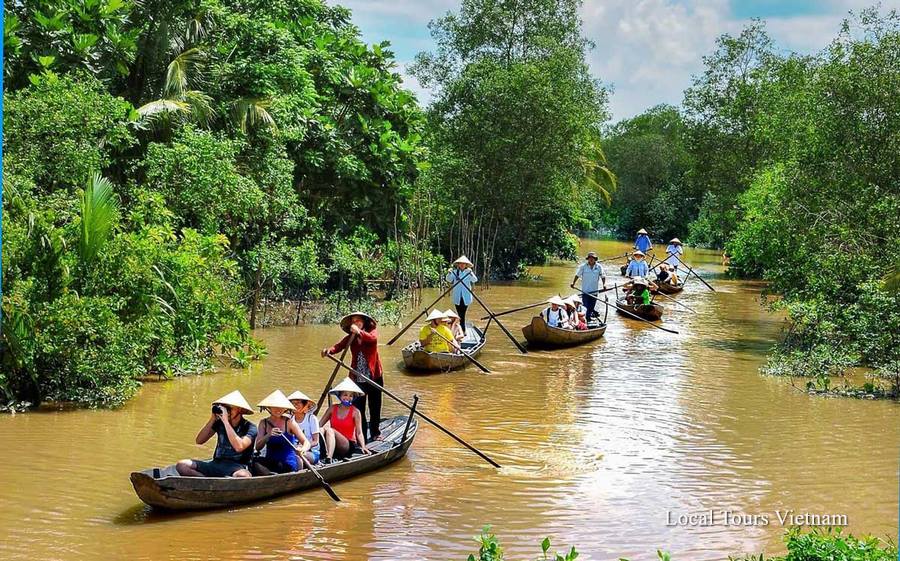 Hand-rowing sampan boat on the Mekong river.
Enjoy traditional Vietnamese folk music performances.
 Take the picture of the pythons
Visit the fruit plantation
Visit the family business & bee-keeping farm
Funny Time